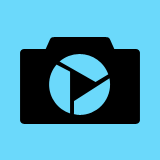 VideoVelocity
Time-Lapse Capture Studio

Studio edition
VideoVelocity Studio edition combines all editions and adds studio power features, including time-lapse or slideshow movie creation from image or video files.
VideoVelocity Studio edition specific features:
Record HD video from all 5 video sources: Webcam & Capture Cards, DSLR & Camera, IP Network Cameras, Screen Capture and Files-to-Video
Capture into jpg or lossless png image files for later processing.
Convert image or video files (jpg, png, nef, raw, avi, mp4, wmv, etc.) into an HD movie. Simply point it at a folder with any type of file (jpg, png, nef, any Windows supported format) and it will do the rest.
Create slideshows or quick motion time-lapse movies. Perform frame fading or even motion detection on the files.
Perform HD 1080p H.264 encoding
Custom crop and resize functionality.
Image enhancement filters (auto enhance, saturation, sharpen, etc.).
Advanced scheduler, solar based for sunrise/sunset recording or custom weekday/monthly schedules.
Normalize brightness changes common in time-lapse capture due to auto exposure. (A must for professional results!)
The Studio edition is recommended for professional results, with power features like brightness equalization/deflicker and round trip still-image-file processing, which improves reliability and allows repeat post-processing without loss of quality.
v3.7.2104, (March 22, 2022)
Free to use without limit.
Purchase only to use HD.
Already own VideoVelocity? Upgrade to Studio